Tim Motzer – abstract paintings
"As a guitarist— texture, atmosphere, landscape, harmonic color, and line all come together to form the whole. Sonic texture and layering are major components in my music. I am exploring this approach within my paintings, as one medium reflects the other."
TIM MOTZER is widely known as an innovative and visionary guitarist, composer, improviser from Philadelphia. Over the last 20 years of recording and world touring, Motzer has carved out a distinctive sonic niche with his guitar artistry collaborating with musical luminaries David Sylvian, Kurt Rosenwinkel, Ursula Rucker, Burnt Friedman, Can's Jaki Leibezeit, Markus Reuter, King Crimson's Pat Mastelotto, and King Britt among others. His solo and collaborative projects are documented on his own label, 1k Recordings, across 35 releases—and still growing. In addition, in the world of contemporary dance, he creates and plays musical scores for international performance,  workshops, and The University of the Arts in Philadelphia.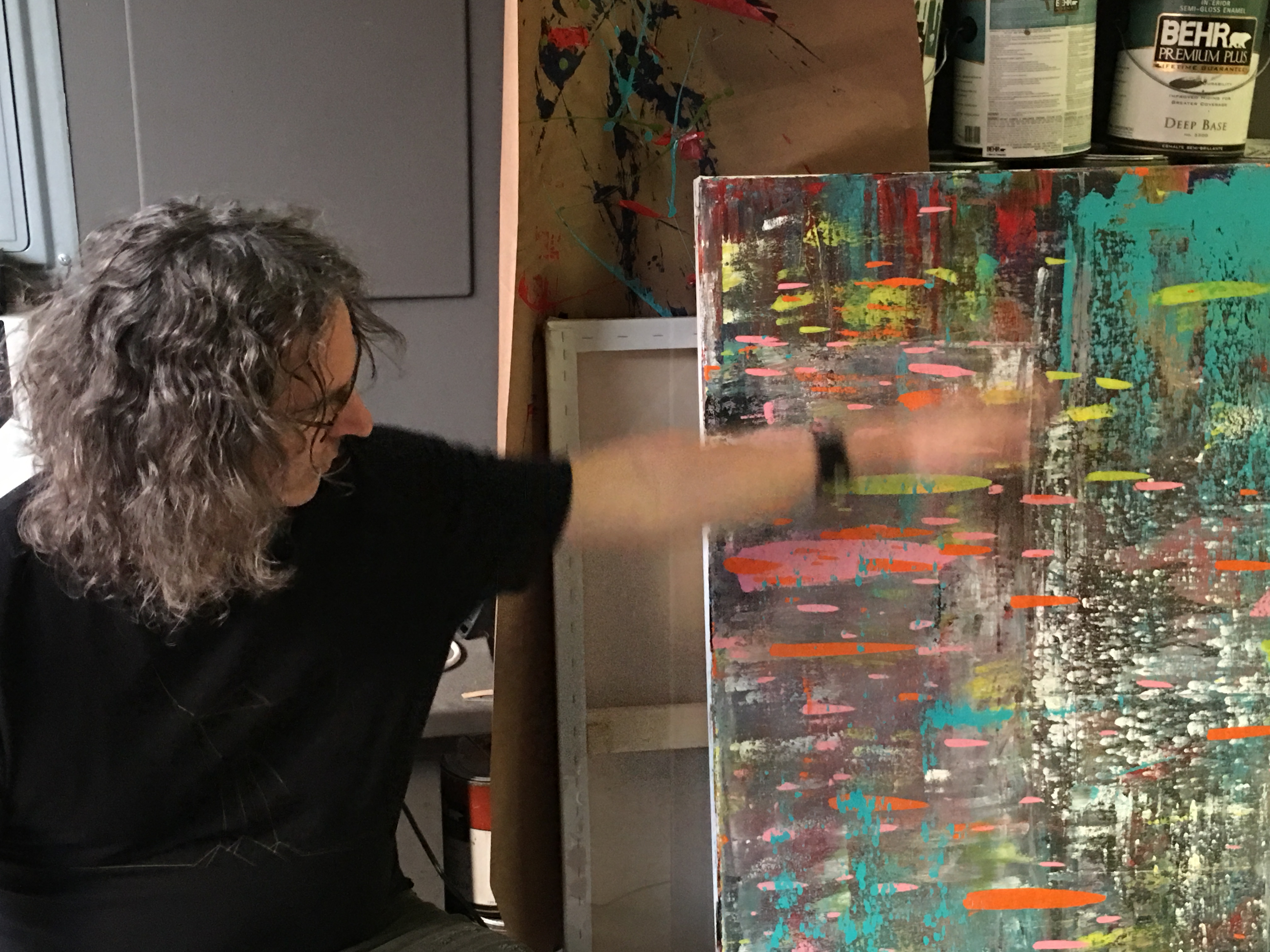 Painting abstracts has been a past time for 20 years on and off between concert tours around the world. The results, in many ways, illustrate visually what his music may look like.
"My goal is to express visually what I hear in my music. As I improvise with guitar—sonic texture, atmosphere, landscape, motion, harmonic color, and line all come together to form the whole. I recognize a similar direction in my painting—collisions, accidents, and densities of color, motion, decay, dream-like states, mystery, and space. I am exploring this approach within my paintings, as one medium reflects the other. Within both, I am searching the unknown for beauty, magic, and a sense of wonder."
"I think my paintings have been influenced also by traveling the world a great deal, these works somehow take on a sense of place to me. Each piece, while connected to one another, contains a distinct cultural memory. My music has this quality as well. It is inspired by where I am, the constant movement, the sights and sounds, and the presence of the people that i am near. With my painting, I work in solitude, and the work is improvised over a short time. I am sure sub-conscious memory, instinct, and emotion play a role in the immediateness of the process. I think through the blur of my life, all of these experiences bubble to the surface as a burst of expression."
Listen to Tim Motzer's extensive catalogue of solo work and collaborations here: https://1krecordings.bandcamp.com/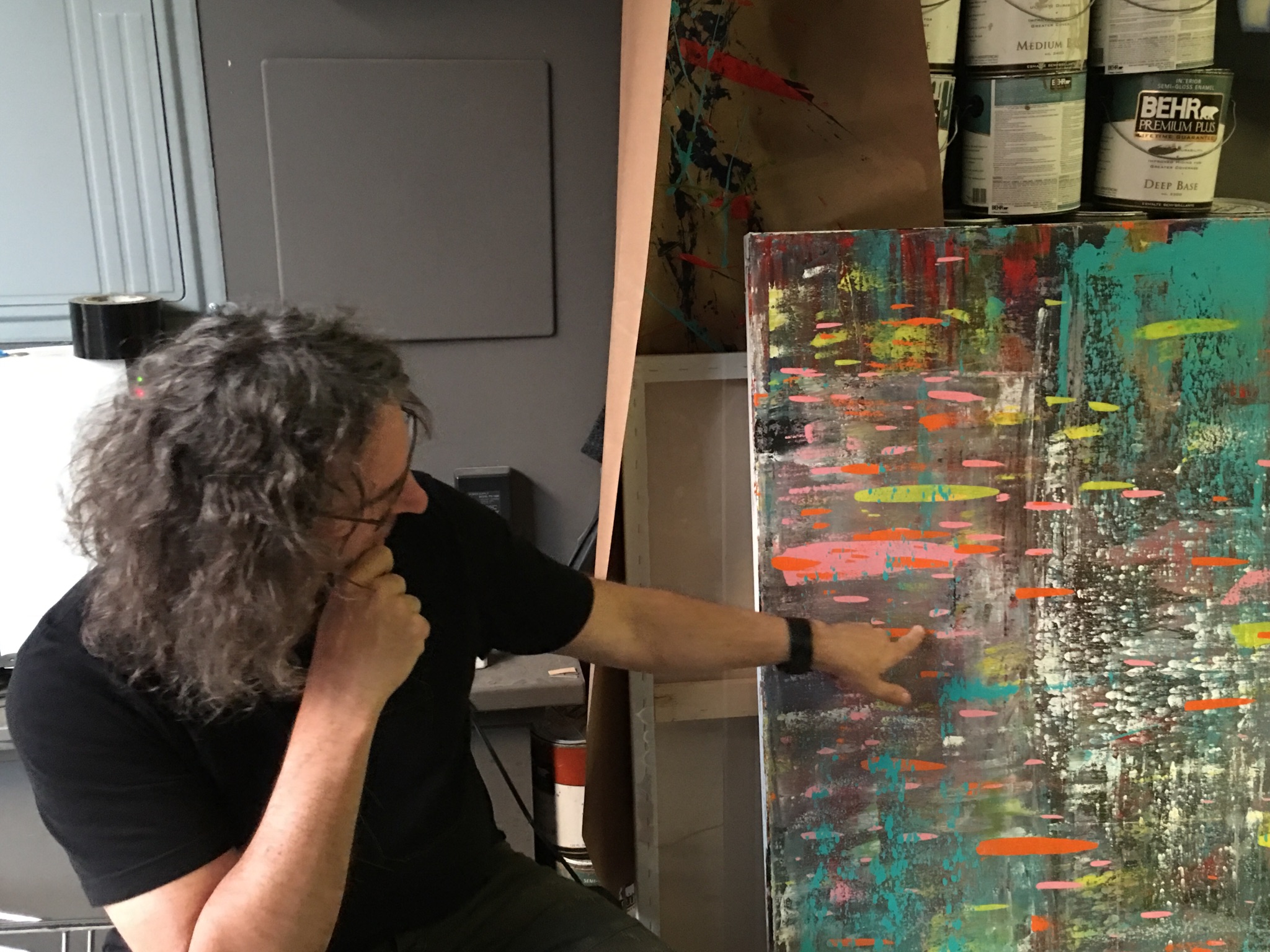 Motzer is currently painting large scale abstract works 36in x 36in and 48in x 48in with acrylic and graphite on canvas; in a variety of sizes on paper; and handpainted CD covers. This will be his first series of paintings for upcoming 2018 gallery showings in Philadelphia and New York. See Motzer's Brooklyn pop-up exhibition, TEXTURE and MOTION, at the Arete Gallery, 67 West Street, Brooklyn. Read more here: http://1krecordings.com/tim-motzers-motion-and-texture-large-scale-abstract-works-and-music-in-brooklyn/
For more information about Tim Motzer's paintings and pricing,
contact: DeeHessler@gmail.com
photos of Tim Motzer by Olinda Del Mar Photography
Click on any image for larger size, and description.
all images/paintings C 2017 tim motzer
Tags abstractacrylic on canvasambientlarge paintingsmusic and paintingscapestim motzertim motzer paintings