Baltimore, MD 8×10 Club January 28, 2015
Wednesday Jan 28
Show 2. Baltimore 8×10
Around noon, Pat and I drive back to Mason's to pick up Marco and Julie. Julie is in the midst of interviews so we leave a little later than expected. Traffic is kinda crazy on the beltway and I-95, some Waze detours gets us through. 8×10 is a great club in Baltimore nice stage and balcony. As we get there the sound man is carrying an  8×10 down the stairs on his back and up on to the stage! whoa!! Marco has power and glory with the SVT. Soundcheck goes well. Using an acoustic-electric guitar has special challenges on stage with a band. In my case, sometimes monitors are too loud, or stage volume is too loud which can make my guitar feedback. Tonight next to the SVT is great but also i had to set up a little more to the left to stay out of its sonic path and I love SVTs!!! It's Julie's Birthday week. Surprise pre-show guest: Thomas Dolby walks in our dressing room with David the promoter. It was cool to meet him over coffee and cupcakes! kinda surreal…lol He is teaching at John Hopkins University and lives in Baltimore now. Science!
Showtime: great set! We each had little issues tonight with gear…Julie had some bumps with her looper + electronics during her solo, Marco had some weird ghost in the machines as well. Maybe we drank too much coffee?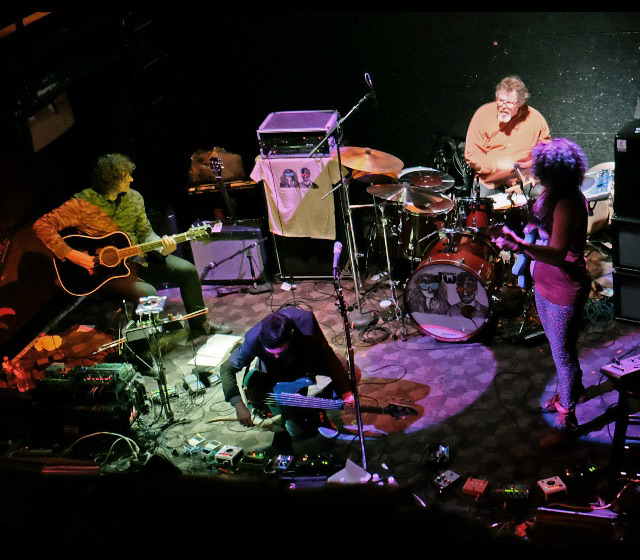 My snafu was during Dinosaur, my vertical pedal board toppled over unplugging gear…arg…but very rock n roll! It was during my solo in the song so it was a bummer…got it quickly all back together with sandbag in place. Strong finish of the set…everyone killed it…Indiscipline was insane tonight…Pat is kicking everyone's ass (in a good way!) what a pleasure…hang afterwards at merch. Nice to meet so many great folks. I am feeling the Baltimore scene. It feels like it is coming on. I do hope to do some shows down here again soon. Drive back to Philly (90 minutes).  Back to the house, and Julie made some nice food for us as we all wound down after 2 crazy days. Lot's of vinyl and stories….Listened to Jack DeJohnette solo record 'Pictures' on ECM; Japanese Sony pressing of Weather Report – Live in Tokyo among others. It was a wonderful day. good night. 5am.
setlist:
green
esteem
ci provo
feck you up
solos:
marco
julie
tim
dinosaur
overcome
skypark
1986
improv
indiscipline