my favorite guitar players.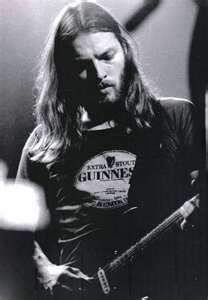 David Gilmour
i've been asked so many times who my favorite guitarists are that i've decided to list some in no particular order. it's just that these guys have been so influential for me as a player and a listener.
if there are any you don't know, go check them out.
always something worthwhile to discover. -t
cal collins
paco de lucia
carlos parades
michael oldfield
steve hillage
robert fripp
jimi hendrix
herb ellis
robin trower
steve tibbets
steve howe
todd rundgren
jeff beck
roy buchanon
jimmy page
andy summers
bill frisell
eric clapton
pat metheny
david torn
ritchie blackmore
adrian belew
rob fetters
rick iannacone
jef lee johnson
john mclaughlin
ralph towner
god speed you black emperor
steve hackett
albert lee
john abercrombie
nels cline
pat martino
wes montgomery
buddy guy
vernon reid
prince
the edge
neil young
thurston moore
lee renaldo
john frusciante
tony iommi
allan holdsworth
john scofield
john lee hooker
david gilmour
fred frith
pete cosey
michael hedges
jimmy bruno
steve howe
leo kottke
curtis mayfield
bb king
frank marino
greg ginn
tom verlaine
richard lloyd
jonny greenwood
albert king
freddy king
srv
eric johnson
john martyn
jan akkerman
duane allman
terje rypdal
joe pass
muddy waters
joni mitchell
billy gibbons
derek bailey
arto lindsay
steve tibbetts
pete townshend
marc ribot
grant green
george harrison
tal farlow
steve morse
martin barre
johnny marr
robert quinne
james 'blood' ulmer
this list is far from done…but in one swoop, these are the ones that immediately come to mind.