Tim Motzer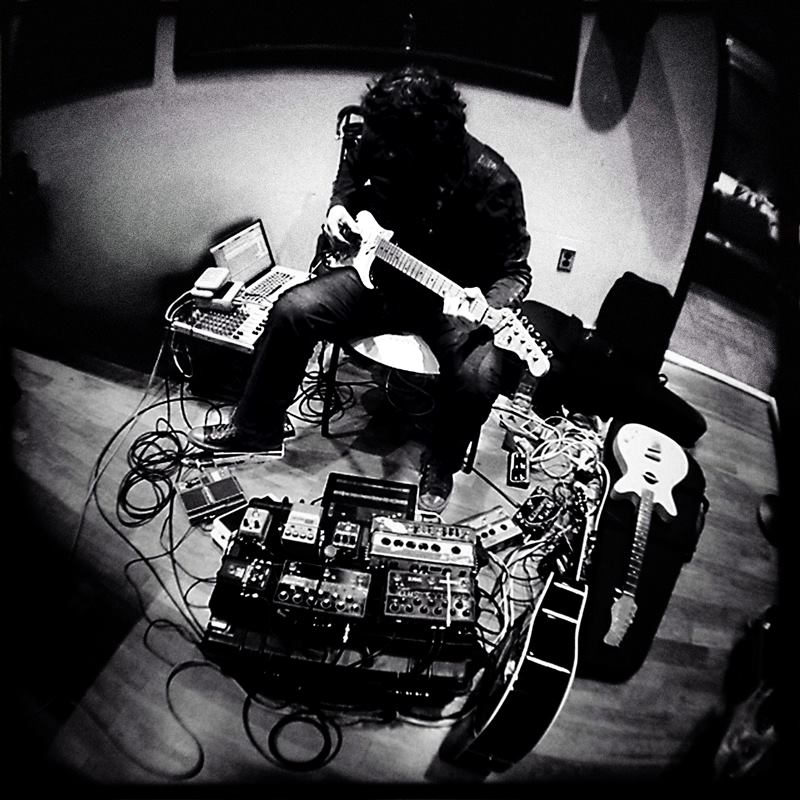 "PHILADELPHIA-BASED GUITARIST AND COMPOSER Tim Motzer finds infinite joy in diversity. His output as a leader and sideman crisscrosses multiple musical universes, including jazz, fusion, prog, hip-hop, soul, electronica, and the avantgarde. Motzer gets to explore these genres and the intersections between them via his ubiquitous presence in the wildly deep and varied Philly scene, where he can be found working with the likes of DJ/Producer King Britt, spoken word/hip-hop artist Ursula Rucker, and jazz-fusion bassist Jamaaladeen Tacuma, just to name a few. He also traverses manifold territories through the many albums released on his own 1k Recordings label" Anil Prasad – Guitar Player Magazine 2007

Motzer has worked on releases by British singer-songwriter David Sylvian (Nine Horses, Sleepwalkers) and the ongoing Secret Rhythms project comprising electronica/dub luminary Burnt Friedman and ex-Can drummer Jaki Liebezeit. Secret Rhythms 3 [Nonplace] prominently features Motzer in propulsive acoustic and fuzzedout electric modes, accompanying Liebezeit's multi-ethnic percussion excursions and Friedman's avant-electronica arrangements. Motzer has joined them once again on SR5, their May 2013 release, making it 4 for 5 in the Secret Rhythms series of releases on Nonplace, Berlin.
With King Britt, Motzer  composed, improvised, and co-produced the album King Britt presents: Sister Gertrude Morgan for Ropeadope Records. He collaborated and worked with Britt on a number of classic remixes for artists including the OJays, Curtis Mayfield, Chic, George Duke, Everything But The Girl and Santogold, among many others. He contributed scoring to Michael Mann's films Miami Vice, and Public Enemy, as well as HBO's True Blood hit series.
1k Recordings is Motzer's Philly-based label-currently celebrating 15 years of releasing music.  Among his many releases is Base3, an all-improvised, experimental jazz-rock trio with three releases. DarkMatter [1k Recordings] finds Motzer venturing into the outer reaches of his electric vocabulary with searing, extended soloing, percolating loops, and ethereal textures. Live From Earth is their second, and taken from a number of live shows around Philadlephia, and North Star is a complete live performance recording via digital download only.
Other genre defying releases from 1k include critically acclaimed albums by Goldbug with Theo Travis, Eric Slick, and Barry Meehan; Tim Motzer + German touch guitarist Markus Reuter – Descending w/ contributions by Pat Mastelotto, Theo Travis, BJ Cole, and Doug Hirlinger, as well as new releases from Jeremy Calstedt, Ilsar-Motzer, Global illage, Instant Takemitsu, and Nucultures. His solo guitar work has been featured on two 2014 releases: Live from Stars End (a live recording from WXPN's Stars End radio program) and AKA (a live in store performance from 2014.) Both recordings show the breadth of his solo guitar and textural looping* mastery. Motzer is in the midst of  producing his archival live recordings called the 1k_artifact_series with 5 releases out now at 1krecordings.bandcamp.
In Contemporary Dance, Motzer has been composing, improvising, and creating live scores for many Philadelphia and international choreographers including Curt Haworth, Manfred Fischbeck & Group Motion, Brian Sanders, Sean Feldman (Dundee, Scotland), Peggy Baker (Toronto), Olivier Tarpaga (Barkino Faso, West Africa), and improvisers Chico Katsube, & Shoko Kashima in Tokyo, Japan. He has worked over the years with Dance Advance in many master classes with Lucinda Childs & Ty Boomershine,  Kathleen Hermesdorf, and Amsterdam choreographer Anouk Van Dijk among many others. He is currently a composer/accompaniest at the University of the Arts in Philadelphia.
*A noted master of looping (since 1988) and textural guitar, Tim Motzer was nominated for the prestigious Pew Award in 2012.
Short Bio
After 17 years of world touring, stunning collaborations, and over 70 albums of credits this Philadelphia-based guitarist continues to traverse manifold territories in music and has developed a distinct textural guitar voice utilizing looping, bowing, electronics, and prepared techniques.
He has collaborated with musical luminaries David Sylvian, Burnt Friedman, Jaki Leibezeit (Can), Ursula Rucker, King Britt, Jamaaladeen Tacuma among many others. As a leader, his projects include Goldbug, Instant Takemitsu, Global illage, Base3, Nucultures, & Tim Motzer SOLO. He releases his genre-defying solo work and collaborations on his 1k Recordings imprint and webcasts sessions from his studio on 1ksessions.com.  He composes for film and video, and scores for choreographers in the world of modern dance.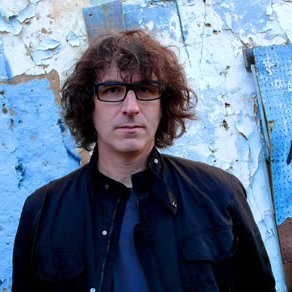 TIM MOTZER
GUITARIST / COMPOSER / PRODUCER / ARTIST / REMIXER
DISCOGRAPHY (AS OF 04/01/2017)
ALBUMS
TIM MOTZER – UNSEEN UNIVERSE (1K)
JULIE SLICK/ECHOTEST – FROM TWO BALCONIES
PAT MASTELOTTO/MARKUS REUTER – FACE
JAMAALADEEN TACUMA/HENRY GRIMES – SPARK/FIRE
SHADOW REWIND – CIRCLING THE GETAWAY (EP)
ORION TANGO (1KRECORDINGS)
MOONBOUND – UNCOMFORTABLE NEWS FROM THE MOON (POWERPROG_ITALY)
M'BALIA – HALFWAY THERE (GAS&TOLLS)
JEREMY CARSTEDT & TIM MOTZER – MOONSTONE (1K_ARTIFACT_005)
JOANNA PASCALE – WILD FLOWER (STILETTO)
RICO & TIM MOTZER – PHASE47 (1K_ARTIFACT_004)
URSULA RUCKER & TIM MOTZER – INTRO-PEACE  (1K)
INSTANT TAKEMITSU – SHAPESHIFTERS (1K_ARTIFACT_003)
TIM MOTZER – AKA (1K_ARTIFACT_002)
BASE3 – NORTHSTAR (1K_ARTIFACT_001)
INSTANT TAKEMITSU – SMALL MAGIC (1K)
KYRA GAREY & TIM MOTZER – LAIRS OF SELF (1K)
TIM MOTZER – LIVE FROM STARS END (1K)
BURNT FRIEDMAN & JAKI LIEBEZEIT – SECRET RHYTHMS 5 (NONPLACE)
LEE FLETCHER – FIWT REMIXES (UK)
JEREMY CARLSTEDT – WHEN I WAKE UP (1K)
NUCULTURES – TAI CHI & RUBY RED (1K)
ILSAR-MOTZER – TALES OF THE BLACKWINGED BIRD (1K)
GLOBAL ILLAGE – THE COMPLETE PORTLAND SESSIONS (1K)
LEE FLETCHER _ FAITH IN WORTHLESS THINGS (UK)
JULIE SLICK – TERROIR (SLICKSOUND)
DON MCCLOSKEY-CORPORAL SPIRITS
PAT MASTELOTTO-RECIDIVATE (7D MEDIA)
MARKUS REUTER WITH TIM MOTZER – STARS END (IAPETUS)
BURNT FRIEDMAN & JAKI LIEBEZEIT – SECRET RHYTHMS 4 (NONPLACE)
GOLDBUG – THE SEVEN DREAMS (1K)
DAVID SYLVIAN – SLEEPWALKERS (SAMADHISOUND)
URSULA RUCKER – SHE SAID (NOIZYBOY)
TIM MOTZER & MARKUS REUTER-DESCENDING (1K)
BASE3_LIVE FROM EARTH (1K)
BURNT FRIEDMAN – NONPLACE 10TH ANNIVERSARY EDITION (NONPLACE)
TRUE BLOOD HBO SOUNDTRACK- SEASON TWO (Atlantic)
FRACTURED REVERB UNDERGROUND (1K)
BASE3 – DARKMATTER (1K)
NUCULTURES – THE ZEBRAMOON REMIXES (1K)
JAZZHEADS – AVANT WOT NOT (1K)
MIAMI VICE – ORIGINAL MOTION PICTURE SOUNDTRACK (ATLANTIC)
BURNT FRIEDMAN & JAKI LIEBEZEIT – SECRET RHYTHMS 3 (NONPLACE)
BURNT FRIEDMAN & JAKI LIEBEZEIT – UNLIMITED EDITION (NONPLACE) EP 45RPM
URSULA RUCKER – POET (FILM COMPOSER) DVD
RADIOHEAD – NUDE – TIM MOTZER REMIX
MIAMI VICE ORIGINAL MOTION PICTURE SOUNDTRACK (ATLANTIC)
NINE HORSES (W/ DAVID SYLVIAN) – SNOW BORNE SORROW (SAMADHISOUND)
SISTER GERTRUDE MORGAN (ROPEADOPE) PRODUCED BY KING BRITT/TIM MOTZER
URSULA RUCKER – RUCKUS SOUNDSYSDOM (FIVESIX)
URSULA RUCKER – MA'AT MAMA (K7)
URSULA RUCKER – SUPA SISTA (K7)
URSULA RUCKER – SILVER OR LEAD (K7)
NUCULTURES – BUTTERFLIES, ZEBRAS, AND MOONBEAMS (1K)
KENNY LATTIMORE – FROM THE SOUL OF A MAN (SONY)
SYLK 130 – WHEN THE FUNK HITS THE FAN (SIX DEGREES)
NINE HORSES – MONEY FOR ALL (SAMADHISOUND)
BURNT FRIEDMAN & JAKI LIEBEZEIT – SECRET RHYTHMS 2 (NONPLACE)
BURNT FRIEDMAN- FIRST NIGHT FOREVER (NONPLACE)
BURNT FRIEDMAN & JAKI LIEBEZEIT with DAVID SYLVIAN – OUT OF THE STICKS (NONPLACE) Vinyl EP
JAKI LIEBEZIET & BURNT FRIEDMAN – UNLIMITED EDITION – VINYL EP 45 (NONPLACE)
BURNT FRIEDMAN & JAKI LIEBEZEIT – SECRET RHYTHMS 3 – (NONPLACE)
LES NUBIANS – ECHOES – CHAPTER ONE NUBIAN VOYAGER (EARTHAWARE EDITIONS)
LES NUBIANS – ECHOES – CHAPTER ONE NUBIAN VOYAGER (TRILOKA)
SYLK 130 – RE:MEMBERS ONLY (SIX DEGREES)
URSULA RUCKER – ONE LOVE: BEST OF (K7)
KING BRITT PRESENTS: PHILADELPHIA EXPERIMENT REMIXED (ROPEADOPE)
LATE NIGHT WITH KING BRITT – (SWANK RECORDINGS)
THIS IS KING BRITT – (V2 RECORDS)
KENNY LATTIMORE – THE REMIXES (SONY)
KENNY LATTIMORE – DAYS LIKE THIS: THE BEST OF (SONY)
GROVER WASHINGTON JR – GOLD (HIPO-RECORDS)
NUCULTURES – A ONE K MIX COLLECTION (1K)
SECRET VOICES – NO TIME FOR SILENCE (1K)
TILOMO – SOFT LUNCH (1K)
JAZZHEADS – AVANT WOT NOT – (1K)
GLOBAL ILLAGE – SUSHI LOVE SESSIONS (EQUAL AREA)
JAMAALADEEN TACUMA – JOURNEY INTO GEMINI TERRITORY (ITM PACIFIC)
JAFAR BARRON – FREE BOP MOVEMENT (ATLANTIC)
MUSIQ SOULCHILD – AIJUSWANASEING (DEFSOUL)
PHILIP CHARLES – AURALPLEX – (SHABOOM)
CLARA HILL – ALL I CAN PROVIDE (SONAR KOLLEKTIV)
COMPILATIONS-REMIXES-SINGLES
FLETCHER/FLETCHER/REUTER – ISLANDS (MIKE OLDFIELD COVER) (UK)
SONIC LIBERTATION FRONT – POOLSHARK (TIM MOTZER COSMIC FUNK REMAKE) (HIGH TWO)
LEE FLETCHER – CRACKS WITHIN: FIWT REMIXES (TIM MOTZER MIX) UK
SAMORA – THE UNSPEAKABLE (TIM MOTZER RE-MAKE) (PSYCHONAVIGATION)
RADIOHEAD-NUDE (TIM MOTZER REMIX)
PHILIP SELWAY-BEYOND REASON (TIM MOTZER REMIX)
SANTOGOLD – ANNE (KING BRITT MOODY MIX)
ROBOT KOCH ELLIE P LIES (TIM MOTZER REMIX) (SUGARCANE)
EVERYTHING BUT THE GIRL – ADAPT OR DIE: TEN YEARS OF REMIXES (ATLANTIC/WEA)
LOVE JONES ORIGINAL MOTION PICTURE SOUNDTRACK – (COLUMBIA)
ATLANTIQUITY – (ATLANTIC)
WEST INDIAN GIRL -REMIX EP W/ KING BRITT – (ASTRAWERKS)
THIS IS WHAT RADIO SHOULD SOUND LIKE – (FIVESIX)
RE-BOP THE SAVOY REMIXES – (SAVOY JAZZ WORLD WIDE)
MAYFIELD: REMIXED – THE CURTIS MAYFIELD COLLECTION (RHINO/WARNER) 'Little Child Runnin Wild'
MPS JAZZREWORKED – GEORGE DUKE (MPS RECORDS)
VIRGIN UBIQUITY REMIXED – KWAJILORI (KING BRITT REMIX) – (RAPSTER)
URSULA RUCKER – TEMPEST/WHAT (K7)
URSULA RUCKER – SUPA SISTA SINGLES/REMIX (K7)
ON THE SEVENTH-PARK HYATT CHICAGO – (MILAN RECORDS)
CLARA HILL – DID I DO WRONG? 12 " (SONAR KOLLEKTIV)
KING BRITT – LOVE IS THE ANSWER 12" (SWANK)
4HERO – LES FLEUR – 9X9 KING BRITT REMIX (TALKIN LOUD)
4HERO – 9X9 PROMO (TALKIN LOUD)
SISE – CUANDO (12") – KING BRITT REMIX (VIRGIN RECORDS)
COMPILATIONS-REMIXES-SINGLES (CONTINUED)
!K7 COMPILATION – (K7)
KAY RUSH PRESENTS UNLIMITED – (TIME RECORDS)
ESPERANTO – SEPTEMBER TILOMO REMIX (SMALL VOICES)
FABRICLIVE. 28 – (FABRIC LONDON)
FABRIC 03 – ELEKTRIK DREAMS (FABRIC LONDON)
ELECTRIC JAZZ VOLUME 01 – SUPA SISTA REMIX – (DA MUSIC)
UNDERCOVER CUTS 19 – IN SO MANY WAYS (UNDERCOVER MAGAZINE)
ANANDA PROJECT – SECRETS KING BRITT REMIX (NITE GROOVES)
H&H – STOP THE LOVE SCUBA REMIX – (FLOWER JAPAN)
MARQUIS WYATT – FOR THOSE WHO LIKE TO GET DOWN (OM)
OFF LIMITS – VOLUME 3 – (RECREATION/SONAR KOLLECTIV)
FANTASTIC PLASTIC MACHINE – CONTACT – TODOS OS DESEJOS SCUBA REMIX –
(AVEX TRAX/CUTTING EDGE JAPAN)
FILM AND TELEVISION SCORING
JE SUIS UN CHEVAL – I AM A HORSE (DIRECTED BY ESTHER BAKER-TARPAGA) 2015
[USA premiere NYC Dance on Camera Festival Walter Reade Theatre NYC] UNION RAGS: AN AMERICAN LOVE STORY 2011
PUBLIC ENEMY – MOTION PICTURE (DIRECTED BY MICHAEL MANN)
MIAMI VICE – MOTION PICTURE (DIRECTED BY MICHAEL MANN)
URSULA RUCKER – POET (DIRECTED BY MICHAEL DENIS)
FREEDOM: THE SELMA MARCH
NATIONAL BEAUTY
TWISTED TALES
KIDSPORTS -TELEVISION SERIES
TELEVISION APPEARANCES
GEKKO – VIVA TV – W/ URSULA RUCKER MILAN ITALY 2001
A NIGHT OF STARS AT THE APOLLO THEATRE W/ KENNY LATTIMORE NY 1998
SOUL TRAIN –  PARAMOUNT STUDIOS, LA W/ KING BRITT SYLK 130 |1998
MOTOWN LIVE – W/ LES NUBIANS LA 1999
CHRIS ROCK SHOW FOR HBO – W/ LES NUBIANS NY 1999
RUNCE TA BAIGNOIRE AT STUDIO VCF – CHANNEL 3 PARIS – W/ LES NUBIANS 1999
THE SOUND OF PHILADELPHIA – PBS TV12 – PHILADELPHIA 1997
URSULA RUCKER – IN PROFILE WHYY PBX TV12 2008
RADIO BROADCASTS
BBC RADIO4 UK w/ URSULA RUCKER LIVE SET 2001
STARS END  @ WXPN Studios w MARKUS REUTER 2008
ECHOES LIVING ROOM CONCERT w/ NUCULTURES 2007 NATIONALLY SYNDICATED BROADCAST
WRTI 91.7FM interview/playback w/ MARKUS REUTER/BARRY MEEHAN
WPRB 103.3FM PRINCETON THE MIKE HUNTER SHOW w/ MARKUS REUTER 2010
GAGLIARCHIVES RADIO—THE PULSE Z88.9/95,1.100.7FM w/ MARKUS REUTER 2010
WPRB-fm live broadcast with Dino JA Deane (Instant Takemitsu) 2010
WPRB-fm live broadcast with Bernhard Woestheinrich 2011
WXPN-fm live broadcast Tim Motzer solo on Stars End Nov 2013.
WPRB-fm, Princeton, NJ live broadcast Tim Motzer solo 2014
WXPN-fm, Philadelphia, PA The Key Sessions, Tim Motzer's ORION TANGO  January 5, 2016
1K SESSIONS WEBCASTS
1ksessions.com
BASE3 (episode 1)  July 11, 2010
TILOMO (episode 2) August 8, 2010
GLOBAL ILLAGE  (episode 3) Septmber 19, 2010
TIM MOTZER & MARKUS REUTER (episode 4) October 17, 2010
CHARLES COHEN & TIM MOTZER  (episode 5) NOvember 21, 2010
HELENA ESPVALL & TIM MOTZER (episode 6) January 16, 2011
BART MILTENBERGER & TIMMOTZER  (episode 7) March 6, 2011
JIM HAMILTON & TIM MOTZER (epidose 8) April 17, 2011
JEREMY CARLSTEDT, ANTHONY TIDD, & TIM MOTZER (episode 9) May 18, 2011
JULIE SLICK, ERIC SLICK, & TIM MOTZER (episode 11) August 22, 2011
THOMAS WAVE & TIM MOTZER (episode 10) July 27, 2011
URSULA RUCKER & TIM MOTZER (episode 12) September 18, 2011
BERNHARD WOSTHEINRICH & TIM MOTZER (episode 13) October 10, 2011
RICH MEDINA & TIM MOTZER (episode 14) November 21, 2011
DINO J.A. DEANE & TIM MOTZER INSTANT TAKEMITSU (episode 15) March 6, 2012
MARKUS REUTER & TIM MOTZER 'SOLO SOLO DUO" SPACE IS THE PLACE. (episode 16) October 6, 2013
ALON ILSAR & TIM MOTZER 2013 sugar tank session. (episode 17) December 6, 2013
TOURS AND FESTIVALS
BANDIT65 2016/2017 Europe, US, Canada Tour
Kurt Rosenwinkel – guitar, electronics Tim Motzer – guitar synth, electronics Gintas Janusonis – drums, percussions, electronics
Europe: Budapest, Berlin, Milan, Montpelier, Vienna, Prague, Valencia, Nigran, Cadiz SPAIN, Rome, Firenze, Calabria, Potenza, Trento ITALY, 2017 SCANDINAVIA: Helsinki
US & Canada: Cambridge, Philadelphia, Montreal, Brattleboro VT, Los Angeles
TIM MOTZER LIVE SOLO US AND EUROPE TOUR 2014 w Dejha Ti (visuals)
Wroclaw, Poland, and Berlin Residency with 5 performances.
JULIE SLICK, MARCO MACHERA, PAT MASTELOTTO, TIM MOTZER  EAST COAST TOUR 2015
Washington DC, Baltimore, Dunellen, Philadelphia, New York City
URSULA RUCKER – EXTENSIVE WORLD TOURS AND FESTIVALS 2000-2015
MUSIC DIRECTOR/GUITARIST
Singapore, Dubai, London, Amsterdam, Rotterdam, Paris, Berlin, Rome, Milan, Stockholm, Helsinki, Lisbon, Oporto, Barcelona, Istanbul, Tel Aviv, Brussels, Madrid, Belgrade, Zurich, Wroclaw, Vienna, Brugge, Warsaw, Montreaux, Birmingham, Los Angeles, New York, Toronto, Montreal, Tokyo, Capetown, San Francisco, Vancouver, Detroit, Atlanta, Seattle, Brooklyn, Sydney, Perth, Kristiansand, Cincinnati, Estonia,
Festivals:
Montreux Jazz Festival/ Montreux, Switzerland; Hultsfred Festival/Sweden; Trans-Musicales Festival/Rennes, France; Bumpershoot Festival/Seattle, Washington;  Montreal Jazz Festival/ Montreal, Ontario; Amnesty International Festival Tour/Australia & New Zealand; Punkt Festival/Kristiansand, Norway; Big Chill Festival/UK; DanauFestival/Denau, Austria ; Brooklyn Bowl with the ROOTS; 2007 Tour Toronto, Vancouver, Seattle with Ursula Rucker , Tim Motzer,  and ?uestlove,
LES NUBIANS WORLD TOURS  1999 US TOUR /PARIS: 2000 WORLD TOUR
Paris, New York, Philadelphia, Baltimore, Washington D.C., Detroit, Boston, Las Vegas, Portland, Seattle, Boulder, San Francisco,
Los Angeles, New Orleans, Miami, Dallas, Chicago, Quebec City, Atlanta
KING BRITTS SYLK 130 WORLD TOURS 1997-2008
San Francisco, Los Angeles, Reno, New York City, Philadelphia
SISTER GERTRUDE MORGAN EXPERIENCE WORLD TOUR 2006-2012
New York City, New Orleans, Asheville, Helsinki, Philadelphia, Lisbon, Oporto, Paris, London, Berlin
LEAF FESTIVAL Black Mountain, NC
NOVA DREAM SEQUENCE (King Britt, Tim Motzer, Daniel Potthast)
USA dates: New York City, Philadelphia, Cleveland, Cincinnati, Detroit
AHKBANK JAZZ FESTIVAL, Istanbul, Turkey 2006
BURNT FRIEDMAN & JAKI LEIBEZIET at the JAZZ SAALFELDEN FESTIVAL
Saalfelden, Austria 2007
JULIEN LOURAU at the LA VILLETTE JAZZ FESTIVAL Paris, France 2007
EXITS – PUNKT FESTIVAL, Kristiansand Norway 2009
with Arve Henriksen, Jan Bang, BJ Cole, Bugge Wesstletoft, Guy Sigsworth, Eivand Aarset, & others.
OTTOKAR  featuring Jim Menesis – CUNEIFORM FESTIVAL at THE STONE NYC curated by John Zorn
TEDX PHILLY with Ursula Rucker Kimmel Center, Philadelphia 2010
GLOBAL ILLAGE at the STRING CHEESE INCIDENT FESTIVAL Portland Oregon 2010
Performed with Comedians LEWIS BLACK, DAVE ATELL, and MITCH HEDBERG
New Years Eve Tower Theatre, Upper Darby 2006
URSULA RUCKER – MY FATHER'S DAUGHTER
One woman show  with live score composed and performed by Tim Motzer
Annenberg Theatre, Philadelphia 2015 (2 nights)
Freedom Theatre, Philadelpia 2015 (2 nights)
Plays and Players, Philadelphia  2015 (1 night)
Kelly-Strayhorn Theatre, Pittsburgh 2015 (2 nights)
COMPOSER + SCORES FOR MODERN DANCE
SCOTTISH DANCE THEATRE DUNDEE/EDINBOURGH SCOTLAND with SEAN FELDMAN 2004
GROUP MOTION, PHILADELPHIA PA  W  MANFRED FISCHBECK 2009-2015
UNIVERSITY OF THE ARTS 2009-PRESENT FACULTY/COMPOSER/IMPROV ACCOMPANIST
NEWFEST PHILADELPHIA W/ KATHLEEN HERMESDORF 2011
LUCINDA CHILDS MASTER CLASS PHILADELPHIA 2010
PEGGY BAKER DANCE PROJECTS TORONTO SCORE – EPILOGUE 2014 OTHER WORLDS
CURT HAWORTH EITHER/OR—6 PERFORMANCES W/ LIVE SOLO GTRSCAPE SCORE/ PHILA 2011
BRIAN SANDERS/MANFRED FISCHBECK 2012 UARTS MERRIAM THEATRE PHILA
DANCE ADVANCE COMPOSER FOR MASTER CLASSES 2002-PRESENT
SESSION HOUSE, TOKYO JAPAN WITH CHOREOGRAPHER OLIVIER TARPAGA 2014.
CURT HAWORTH, SCORE PHILADELPHIA 2016 MERRIAM THEATRE UARTS DANCE
MODAFE, SEOUL, SOUTH KOREA WITH CHOREGRAPHER WON KIM 2016.
SEOUL DANCE CENTER WITH SUNG-IL HER, SEOUL SOUTH KOREA 2016
OUJDA, MOROCCO WITH OLIVIER TARPAGA 2016
TORONTO, CANADA WITH PEGGY BAKER 2017
*Dance Advance/PEW Workshops and Masterclasses with Ty Boomershine (Lucina Childs/Einstein on the Beach); Toronto Choreographer/Dancer Peggy Baker, and Manfred Fishchbeck weekly residency; Amsterdam choreography Anouk Van Dijk; UK choreographer/dancer Sean Feldman; and others. 2011-2001
PUBLICATIONS-BLOGS
That Music Magazine | Tim Motzer profile Summer issue 2015
Prepared Guitar | 13 Questions with Tim Motzer 2014  http://preparedguitar.blogspot.com/2014/02/tim-motzer-13-questions.html
Guitar Moderne | profile on Instant Takemitsu 2012
Guitar Moderne | profile on Tim Motzer & Markus Reuter 2013
Guitar Player Magazine | Feb 2011 top editor pick
Guitar Player Magazine | April 2011 feature & interview
Progression Magazine issue 61 Spring 2011 | Profile Tim Motzer & 1k Recordings
UK Classic Rock presents Progressive Top Ten year end lists
Guitar Player Magazine | interview Sept 2009
State of Mind Magazine | interview 2006
City Paper | Philadelphia feature on Tim Motzer 2006
City Paper | Philadelphia cover story King Britt Tim Motzer Sister Gertrude Morgan. 2005
*Numerous magazine, newspaper, blog reviews of various records. 2011-1999
HONORS
Jazz Performer of the Year | Jazzheads | City Paper, Philadelphia (2000)
Tim Motzer, Ari Hoenig, Chris Cuzme, Ben Bocardo
300 ESSENTIAL NAMES in modern guitar, Prepared Guitar, Madrid Spain (2015)
Nominated for the PEW Fellowship Award 2012.
WORKSHOPS
Music and Poetry Workshop – Muhlenburg University 2012
Finding Your Own Voice – Tim Motzer 2014
Sonic Guitar Bootcamp – Tim Motzer 2015
Facing Front Workshop – Meeting House Philadelphia 2015
Kimmel Center Jazz Summer Camp 2011-2015
PHOTOGRAPHY EXHIBITIONS
Tim Motzer Photography Exhibition Gallery 13w in West Philadelphia
Saturday July 28 – August 28, 2012
PRODUCTION/ENGINEERING/MIXING/1k RECORDING STUDIO
Jamaaladeen Tacuma, Henry Grimes Sessions at 1k Recordings | engineer 2015
The Last Poets | engineered by Tim Motzer | produced by Jamaaladeen Tacuma (not released)
No Stranger Here – Shubha Mudgal, Ursula Rucker, Business Class Refugees (earthsync)| engineer
Free Form Funky Freqs – Bon Viviant Vernon Reid, Jamaaladeen Tacuma, Calvin Weston | recorded, mixed, mastered by Tim Motzer
Calvin Weston – Cosmic Miles Project | recorded, mixed and mastered by Tim Motzer
Interplay – Porter Records | digital editing, assembly, and sonic enhancement by Tim Motzer
Grimace Federation – On Velvet | Produced by Tim Motzer & Jeff Chestek
1k Recordings projects
1k Sessions
Ursula Rucker – various projects
ENDORSEMENTS
Moog Music
Reunion Blues
Pigtronix Pedals
Eventide Electronics
Guyatone Pedals (Godlyke)
Godin Guitars
Takamine Guitars
Zvex Pedals
ZT Amplification