Markus Reuter + Tim Motzer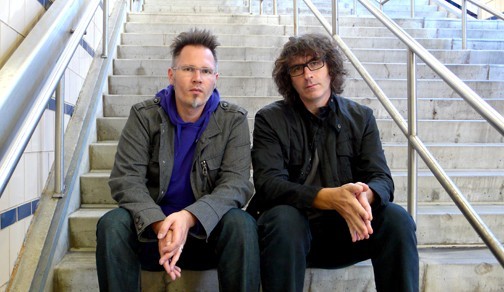 Markus Reuter and Tim Motzer began working together on various projects starting in 2008 with a live broadcast of their duo on WXPN Stars End. The first sessions were largely based around soundscaping and looping. Later these sessions would turn into their critically-acclaimed Descending album.
They have further collaborated on the upcoming TUNER album, tentitively titled FACE which features drummer Pat Mastelotto among many others. 60-70 hours marks Motzer intensive guitar tracking alone, and that makes up only a small bit of this large scale Reuter work. No date yet on this release.
The first Motzer-Reuter webcast on 1k Sessions happended October 17, 2010, and on October 6, 2013 Reuter & Motzer presented Solo Solo Duo, Space is the Place at a famous film studio in South Philadelphia.
Watch the webcast here:
https://player.vimeo.com/video/77366710
An interview with Tim and Markus here by Guitar Moderne.
http://www.guitarmoderne.com/artists/markus-reuter-tim-motzer-solo-solo-duo
---
Markus Reuter (featuring Tim Motzer) – Star's End
One 59-minute live electro-acoustic improvisation with ambient character and contemporary classical sensibility. Both Markus and Tim are feeding Markus' live processing setup with their quite different guitar tones that then get transformed into deep and ever evolving soundscapes.
Star's End is the second album in Markus Reuter's "featuring" series of releases with extraordinary musicians.
released 12 December 2011
Tim Motzer: Baritone Guitar
Markus Reuter: Touch Guitars® U8 Deluxe, Live ElectronicsMusic by Reuter/MotzerRecorded live to 2-track stereo at Chuck van Zyl's Star's End radio show on WXPN, Philadelphia, PA, USA, August 10th 2008
Mastered by Markus ReuterProduced by Markus Reuter for Unsung Productions
http://iapetus-store.com/album/stars-end
---
TIM MOTZER & MARKUS REUTER SOLO SOLO DUO CONCERT AND 1K SESSIONS WEBCAST
Sunday October 6th 2013  7pm
Studio A
1418 Darien Street
Philadelphia PA 19147
Limited seating available at the door. $20
---