Tilomo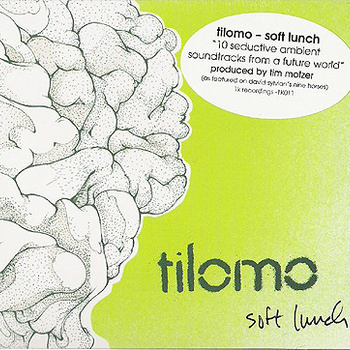 Tim Motzer's solo guitar-scape project.
Tilomo – Soft Lunch (1k recordings)
Tim Motzer has made some pretty noisy shit…Ursula Rucker and King Britt's Sister Gertrude Morgan CD—not to mention contributions to David Sylvian's Nine Horses and Jaki Liebezeit's Secret Rhythms. Yet, on this new solo excursion, this Philadelphian finds solace in silence.
Tilomo, Tim Motzer's guitar/laptop solo project, benefits greatly from the sloe-gin-y liquid soul of his work with Britt—you can hear it in the way his fuzzy jazz-foink chords ooze through the title track. But there's a sputter, beep, whoosh and clink to the proceedings that make it happily irksome and decidedly un-neo-soulful. The sawed, strained string samples of "Blue Samari," the thickly blown wind sounds that trace the development of "Embrace" from autumn chill to winter storm, the cheery tinkling of "Chi Moto"—there are eight million moody stories to be told in this ambient jungle.
A.D. Amorosi