Jazzheads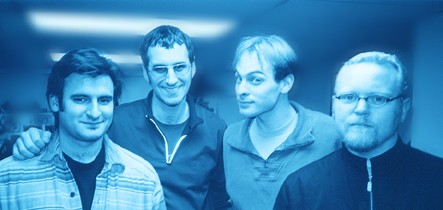 Exploring jazz, funk, drum n bass, groove, and other influences, Jazzheads combine organic collective improvisations and electrifying group interplay in both performance and on their first album Avant Wot Not.
The band features Tim Motzer on guitars, Ari Hoenig on drums, Chris Cuzme on saxophones and didgeridoo, and Ben Bocardo on upright and electric basses.
The band's collective resume boasts stints with king britt, isaac hayes, kenny lattimore, jamaaladeen tacuma, les nubians, big push, larry coryell, josh roseman (groove collective), john medeski (martin, medeski & wood), jazz mandolin project, fred wesley, everlast, bass-x, neneh cherry, and others…
Jazzheads have performed extensively regionally at clubs & universities since 1996 and were one of the headliners at the 1997 JVC International Acid Jazz Groove Festival in Toronto along with 4 Hero, Roy Ayers, Jungle Brothers and others. The band performed at the 1999 Bell Atlantic Jazz Festival in New York City, the 1999 Mellon Jazz Festival in Philadelphia, and played to over 1500 people at the 1999 Rittenhouse Square Concert Series in Philadelphia, among others. The Rittenhouse concert was webcast live throughout the world by Media Bureau Network and is available as a download from MediaBurea.com.
album: JAZZHEADS – AVANT WOT NOT (1k002) issued in 1999 on 1k recordings.  reissued 2008 as part of 10th anniversary.
Jazzheads: Philadelphia City Paper Jazz Performer of the Year 2000.