Global Illage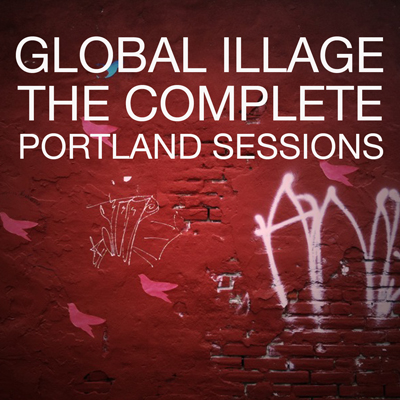 The first Global illage release since 1999's groundbreaking Sushi Love Sessions. For this latest reunion release,recorded in Portland during their residency at the String Cheese Incident Festival in 2010, the band spent 2 days in Portland Underground Studios recording. What emerged is long form improvisations, music from another place, a conjuring of a distant time, some clocking in at 23 minutes. The band decided to release all of it—3 plus hours of it—raw and unedited.  Enjoy these adventures in sound, melody, groove, texture, and ambience. close your eyes and travel.
GLOBAL ILLAGE:
Jim Hamilton – percussion
Chris Cuzme – saxophones, bass, percussion
Dan Sears – trumpet, fluegelhorn, keyboards
Tim Motzer – acoustic-electric guitar, electronics
track list:
1 Bug Catcher 16:24
2 Fish Out Of Portland 15:52
3 Of The Spirits and Sages 23:51
4 Sandstorm 15:32
5 Beside The Still Waters 19:49
6 Darkness Leads To The Light 16:05
7 The Earth Doesn't Want Me Today 16:11
8 Wandering Star (Fire Over Wood) 4:31
9 Wandering Star (Inner Truth) 4:44
10 Leave Hope And Fear Alone 20:30
11 Race & Bandit 12:21
12 Smiling Faces In The Sun 11:51
13 The Last Love Song 7:45
Global illage – The Complete Portland Sessions (Volumes 1, 2, and 3)
Recorded in Portland Oregon while the band was out there to play the String Cheese Incident Festival
in 2010.  The two days ahead of the festival gave them rare time together in the studio and resulted in this amazing
outpouring of music—over three hours of it, raw and unedited adventures in music.
Recorded at Portland Underground Recording by PE Strickland in August 2010 Portland, Oregon.
Mixed by Brian Boland at Rittenhouse Soundworks, Philadelphia December 2010.
Mastered by Jeff Chestek at the Hat, Philadelphia June 2012 with additional editing and sequencing at 1k recordings by Tim Motzer.
"We had the opportunity last night, Independence Day Night, to attend an album release party for the new Global Illage album "The Complete Portland Sessions." I've written about this mind blowing quartet previously. They're all about improvisational music and, truthfully, I think they're channeling the 22nd Century pretty forcefully. Global Illage is Chris Cuzme on reeds and bass; Dan Sears, trumpet and keyboards; Jim Hamilton, percussion; and Tim Motzer playing guitar (like a winged angelic blend of Frank Zappa and Pat Metheny) and electronics. Their music grooves, flies, digs, screams, settles, electrifies, and calls forth the spirits of so many of our greatest musical geniuses of the past 100+ years." David Biddle