r_m_s featuring Tobias Ralph, Tim Motzer, and Julie Slick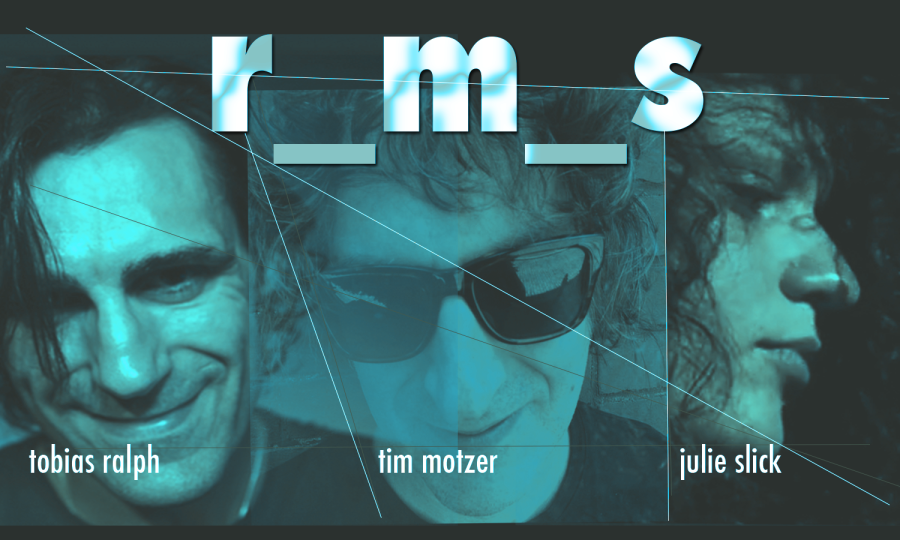 r_m_s dates just announced!
June 10, 2015
Boot and Saddle, Philadelphia 8pm doors
support: Air is Human
http://www.bootandsaddlephilly.com/event/854353-r-m-s-philadelphia/
June 12, 2015
BEARDFEST 2015
Hammonton, NJ
r_m_s headline the Forest Stage at 7:30pm
http://beardfest.net/tickets.html
r_m_s
featuring TOBIAS RALPH, TIM MOTZER, JULIE SLICK
r_m_s is a band of players, all leaders in their own right, that need no introduction to progressive heads, featuring JULIE SLICK and TOBIAS RALPH—the rhythm section for ADRIAN BELWE and THE CRIMSON PROJEKCT—and guitarist TIM MOTZER has worked with his own share of musical luminaries such as JAKI LIEBEZEIT OF CAN, BURNT FRIEDMAN, DAVID SYLVIAN, URSULA RUCKER, and many others.  Julie and Tim also recently toured in Echotest with italian bassist MARCO MACHERA and King Crimson drummer PAT MASTELOTTO.
r_m_s  is a special edition trio, catch 'em while you can—think the improvising side of king crimson, crazy looping, ambient soundscapes and the astounding drumming of Tobias Ralph.
tobiasralph.com
julieslick.com
1krecordings.com