new 1k release: BASE3-Live From Earth (1k017)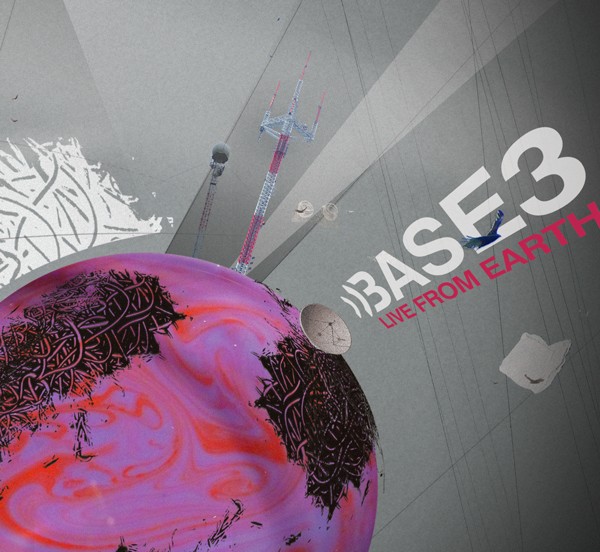 BASE3_Live From Earth available now
74 minutes of absolutely essential BASE3. Transmissions of heat and spark, assembled from several astonishing BASE3 live performances in Philadelphia from 2009—featuring drummer Doug Hirlinger, baritone guitarist Tim Motzer, and bassist Barry Meehan.
release date: April 25, 2011
BASE3 is:
DOUG HIRLINGER-traps
TIM MOTZER-baritone guitar + electronics
BARRY MEEHAN-bass + electronics
tracklist:
NINTH WARD
GOD PARTICLE
the COLLIDER
KILLSHOT
AFTERSHOCK
the PREMONITION
5_WARP
THE UNANSWERED CALL
4 panel cd mini-LP jacket design by dejha ti.
buy BASE3-Live From Earth now at the 1k Recordings Store:
http://1krecordings.com/1kstore/shopexd.asp?id=221
also available from DGMLIVE mail order:
http://www.product-finder.net/dgm/BASE3—Live-From-Earth.asp
In Philadelphia, pick it up at AKA Music. 2nd Street @ Market St.
download: B3_LFE full hi-quality album now available and specially priced:
http://1krecordings.com/1kstore/shopexd.asp?id=223
reviews:
Base 3
Live From Earth
1k Recordings
Contrasting their previous studio release, Philadelphia-based trio Tim Motzer, (baritone guitar / electronics), Doug Hirlinger, (drums), and Barry Meehan, (bass / electronics), have drawn together a serious of live performances from 2009, knitting them into an expansive, continuous suite that's constantly boiling over with adventurous and often ingenious interplay.
Tracing an intriguing map made from waves of interstellar glissando, sepia-tinged hybrid blues licks, locked-down beats, and sparkling electronica-induced atmospheres, they maintain a tightly-controlled environment that's often dense but never cluttered.
Impeccably sequenced, it gracefully processes from the impressionistic squall of Ninth Ward, and the repetitive, jagged rockface of God Particle, through to The Unanswered Call. A 33 minute-long psyche-prog shadow play that combines fluid expression and instinctive judgement calls bordering on ESP, it's the undoubted triumph of the album.
Hirlinger's compact skittering grooves ripple and buzz like well-crafted, concise dramas, telling tales via skins and metal, producing stuttering interjections against Meehan's unflappable focus.
Throughout the album, Motzer's kaleidoscope excursions intrigue and entertain. However it's here more than anywhere else on the album that his swaying, sustained guitar lines most ably communicate a lonesome, remote reverie with all of the exquisite eloquence of a tautly drawn haiku.
This album can be summed up in one word: essential.
*****Sid Smith Postcards From the Yellow Room (UK)–


BASE3 – Live From Earth (CD, 1K Recordings, Progressive/electronic)
Yet another project utilizing the skills of ultra-productive creative mastermind Tim Motzer. BASE3 is the Philadelphia, Pennsylvania based trio comprised of Motzer, Doug Hirlinger, and Barry Meehan. The tracks on Live From Earth utilize plenty of technology-driven sounds and spontaneous improvisation. These tracks are from two live performances…the first 41 minutes were recorded at The Fire in Philadelphia while the final 33 minutes were recorded at the Gojjo Sci-Fi Jazz Series. These three guys feed off one another in obvious ways, making these free-flowing progressive psychedelic compositions trippy and unique. In some ways this is a throwback to the heady music of the 1970s…but in other ways these guys are forging new sounds directly tied to the twenty-first century. Killer packaging…wildly inventive sounds…what more could you ask for? Our favorite cuts include "Ninth Ward," The Collider," "After Shock," and "The Unanswered Call." Cool and perplexing. *****Baby Sue
BASE3 – Live From Earth
In a live setting the band really shows their experimental side, with more than a slight nod to improvisation. This is probably best exemplified with the album ending epic "The Unanswered Call", an amalgamation of ambience and electronic soundscapes with excellent East Indian guitar motifs. Other notables include the chilling "God Particle" where moody atmospherics of guitar and electronics blend into an absorbing jam session and the feedback/loop filled "Ninth Ward" with its brazen blasts of wild guitar effects and spacey electronics.This is an album filled to the brim with jam band aesthetics and spacey atmospheres that make for a rather other worldly listening experience. It is best enjoyed with a good set of headphones. Recommended for psychedelic and space fans everywhere.
**** Jon Neudorf/SOT
BASE3- Live From Earth
Exploring the hypnotic low-end, the avant-garde power trio of Base 3 probes into the dark depths of experimental post-rock. With the lineup of Tim Motzer (baritone guitar/electronics), Barry Meehan (bass/electronics), & Doug Hirlinger (drums/percussion) the seminal groove vibe is persistent throughout Live From Earth, as the organic jam session finds itself induced by various electronic nuances/samples as well as feedback, electric hum run through effects, phasing, and delay to spring the opposition to any paint by numbers scheme. The album itself is bold with the musical faction sounding cinematic, like a soundtrack to an edgy film, with a jazz influence in "God Particle" & "Killshot," semi-industrial chill on "The Collider," and a free-form frenzy on "Aftershock." Live From Earth may not be all out melodic, but at least it's real, honest, and interesting – as being a pop band is not the priority for Base 3; the record is most certainly a headphone listening experience where you feel engulfed in the music with it's raw magnetism. ****Tommy Hash/Ytsejam